Ninja Foodi air fryer is one of the most popular kitchen appliances today but few people know what this wonder appliance is capable of. The Ninja Foodi air fryer comes with a number of features that make cooking a joy and help make meal preparation a breeze. This product claims to be dishwasher safe and can fit most air fryer baskets. However, is the ninja foodi air fryer basket dishwasher safe?
Ninja Foodi is made of stainless steel, which is very easy to clean. Ninja Foodi air fryer is also dishwasher safe, which is perfect for cleaning and easy storage. Ninja Foodi is also very easy to use, and once you have one, you will see why.
When we buy a product, we expect certain things done by it. We want those products to be reliable and safe in order to use them in our daily lives without worrying about how they will affect us later on.
For this reason, a dishwasher-safe air fryer basket is expected by many. If there is one thing that annoys people, it is when the food sticks to their dishwasher. This may be quite frustrating. One way to make sure this does not happen is by using a dishwasher-safe air fryer basket.
What parts of the Ninja Foodi are dishwasher safe?
These are the parts of Ninja food air fryer that are dishwasher safe: The Inside cooking pot, reversible rack, detachable diffuser, Cook & Crisp Basket, and silicone ring of Ninja Foodi Air Fryer can be washed with a dishwasher. After washing, put the basket together to prevent the loss of parts.
Take care when washing the outside cooking pot, as this may be delicate. Over time, food from pots and pans can build up in the basket and diffuser area; discontinue use if buildup on any part of Foodi is noticed.
How do you clean the Ninja Foodi Air fryer Basket?
To properly clean your Ninja foodie Air fryer, you would need a dishwasher degreaser, bottle brush with a soft bristle and Paper towel or a soft cloth. To keep your Ninja Foodi air fryer in great condition, clean the attachments after each usage.
The Ninja Foodi will be hot after cooking. After removing your meal, leave the hood open to let it cool while you eat. When hand-washing the accessories, use the cleaning brush. Following each usage, the Ninja Foodi air fryer must be thoroughly cleaned.
Before cleaning the Ninja Foodi, always disconnect it from the wall outlet.
NEVER submerge the Ninja Foodi air fryer base in water or other liquids, or put it in the dishwasher.
Wipe off the Ninja Foodi base and control panel with a damp towel when cleaning them.
The dishwasher is safe for the inside cooking pot, reversible rack, removable diffuser, Cook & Crisp Basket, and silicone ring.
Water and dish detergent may be used to clean the pressure lid, anti-clog cap, and pressure release valve.
NEVER put the pressure lid or any of its pieces in the dishwasher, and NEVER disassemble the red float valve assembly or pressure release valve.
After the heat shield has cooled, clean the Ninja crisping air fryer lid with a wet cloth or paper towel.
If leftover food becomes trapped in the inner cooking pot, Cook & Crisp Basket, or reversible rack, soak it in warm soapy water before cleaning.
If you must scrub, use a non-abrasive detergent or dish soap and a brush or pad.
After each usage, allow all pieces to air-dry.
Because of the coating on the interior pot and Ninja's plastic outside, washing Ninja Foodi is considerably easier than cleaning Instant Pot. The detachable components of the Ninja Foodi are dishwasher safe, making cleaning a breeze.
Are you considering purchasing Ninja Foodie Air Fryer?  You can click here to buy on Amazon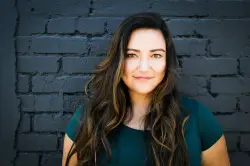 Latest posts by Angela Jones
(see all)