Cooking turkey wings in a crock pot is not the easiest thing to do. Turkey wing recipes are usually difficult and time-consuming, but this one can be done in 4 hrs or less.
Turkey Wings are a great meal for your family. You've found the perfect recipe, but can you cook turkey wings in a crock pot? Can you cook chicken wings in a crockpot with ease and have them come out delicious every time? There may be more work involved than if cooking them on the stove or grill at home.
Here we have shared with you our favorite way of cooking turkey wings in a crock pot.
Can turkey wings be cooked in a crock pot?
Yes, turkey wings can be cooked in a crock pot. You just need to make sure they don't touch the walls of the cooking vessel and that they are cooked low and slow for an even result. However, the cooking time will vary depending on the size of the turkey wing and how moist they are. For example, if you want to cook 3 pounds of wings in 4 hours at low heat, it may take around 4 hours to cook them.
It takes all day to cook, and it's not a dinner option after work. You can also turn your crock-pot to high for faster cooking. This simple yet flavorful dish of turkey wings will be ready to serve in just under 4 hours as they are slowly simmered away with all the flavors melded together.
This recipe is perfect for those busy moms out there and their tired days of cooking dinner. With a tasty, creamy sauce this dish will be on the table in no time!
To cook turkey wings in a crock pot, you should use the meat thermometer. After checking that your Turkey is at an internal temperature of 165 F, they can be cooked for another 30 minutes and checked again to make sure it's done. If not yet finished cooking, continue cooking them on low heat until they are fully cooked.
How to cook turkey wings in a crock pot
This is my very first crockpot turkey wings recipe, and it is very fantastic. While cooking, the scent of condensed cream of chicken soup and chopped vegetables is totally mouthwatering.
All of the components, including the spices, may be found in your pantry. To make it, all you need is a crockpot. Here is the whole written recipe, including the ideal cutting procedure.
Ingredients
2 lbs of turkey wings
1 tbsp. of extra virgin olive oil
1 cup of chopped medium onion
1/2 cup of diced celery
1/2 cup of diced carrots
1 1/4 cup of water
1 pinch of Kosher Salt
1 pinch of freshly ground black pepper
2 cans of condensed cream of chicken soup
Instructions
Gather your ingredients and make them as directed.
Cut the turkey wings into wingtips, wingettes, and drumettes. Season the pieces with salt and black pepper to taste.
Heat the extra virgin olive oil in a pan over medium heat. Heat the oil in a medium saucepan over medium heat.
Once the oil is heated enough, add the seasoned turkey wings and brown them evenly on both sides. Cook them for around 10 minutes to achieve this.
At the bottom of the crockpot, add the chopped 1 cup onion, diced celery, and diced carrots.
Add the browned chicken wings to the slow cooker.
In a separate dish, mix 2 cans of chicken creamy soup and 1 1/4 cup water. Pour the entire creamy mixture on top of the browned turkey wings.
Place the lid on the crockpot and cook on high for 4 hours. Check the internal temperature of the turkey wings with an instant-read meat thermometer; the temperature must be 165 degrees F.
When the slow cooker turkey wings are done, transfer them to a casserole dish, serve, and bon appetit.
Nutrition
Turkey leg nutrition includes 1 turkey leg with 512 kcal, 66g protein, 28 g carbohydrates and fat of 28 g. The amount of calories in a serving size is 3.
Crockpot Turkey Wings Recipe: Onion Soup Mix Recipe
Crockpot turkey wings with cream of mushroom and onion soup mix is another dish. This particular spice blend adds savory and fragrant notes to the taste.
The wings are slow-cooked with the right combination of onions and green peppers. Enjoy the meal on a cold winter evening with your particular someone, family members, or friends. Here is the whole written recipe, including the ideal cutting procedure.
Ingredients
2 Lbs of Turkey Wings
1 cup of chopped onions
1/2 cup of green pepper, finely chopped
2 tbsp. of butter
4 tbsp. of all-purpose flour
2 cups of cream of mushroom
1 cup of turkey broth
2 tbsp of seasoning salt
1 tbsp of onion soup mix (see the recipe below)
1/2 tsp of ground sage
1/2 tsp of dried rosemary
Instruction
To begin, warm the crockpot over high heat.
Season the turkey wings with 2 tbsp seasoning salt and 1 tsp onion soup mix. Massage the ingredients well with your hands.
Heat a pan over medium-high heat and add the butter to melt.
Once the butter has melted, delicately fry the turkey wings in all brown for 3 to 4 minutes.
To the skillet, add the chopped onions and peppers. Cook for 2 minutes, or until semi-tender.
Arrange the onions and peppers in the slow cooker's bottom. Then top with the browned turkey wings.
In a large mixing bowl, combine 1 cup turkey broth, 2 cups cream of mushroom soup, and 4 tablespoons of all-purpose flour. Make a slurry out of everything by thoroughly mixing it all together.
Drizzle the slurry over the turkey wings and sprinkle with 1/2 teaspoon ground sage and 1/2 teaspoon dry rosemary.
Cover with the lid and set the timer for 3 hours 30 minutes to 4 hours, depending on your crockpot's efficiency.
Serve them hot, juicy turkey wings with steamed veggies or rice of your choice.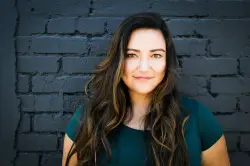 Latest posts by Angela Jones
(see all)