Eggplant can be a bit challenging to cook in an air fryer. There are several steps involved, but the end result is worth it. You don't know what you should do with your old eggplants or if you want to buy new ones? Check out this recipe and see how I used old eggplants for a fun dinner party side dish. This article will tell you everything about cooking eggplant in an air fryer.
Can you Cook An Eggplant In An Air Fryer?
Yes, you can cook eggplant in an air fryer. In fact, this Air Fryer Eggplant recipe is gluten-free, low in carbs, paleo, vegan, and keto-friendly. So everyone can enjoy it! Air fryer eggplant is a great way to cook vegetables. It is an easy and delicious way to enjoy eggplant. This recipe uses an air fryer and is such a fast and simple way to make eggplant.
Tools To Make Air Fryer Eggplant Recipes
Air Fryer – I recommend the Instant Vortex 6 Quart Air Fryer. It is my favorite.
An air fryer is a handy kitchen appliance that can be used to make a variety of recipes, including air fryer eggplant recipes. These recipes are typically very easy to make and only require a few simple ingredients. They are also healthy and delicious, making them a great option for meal planning.
Air fryer recipes are a quick and easy way to cook food. For example, this air fryer eggplant recipe is a great choice for a healthy side dish. Air fryers use heat and air circulation to cook food, meaning that you can cook food without adding oil or using unhealthy methods such as frying.
Air Fryer Eggplant Recipe: How To Cook An Eggplant In An Air Fryer
Ingredients
Eggplant is a vegetable that forms the base of this air fryer recipe.
Olive or avocado oil contributes to an extra bit of crispness and also adds some healthy fats to this recipe.
Garlic powder is simply super complimentary when paired with eggplant!
Salt ! Hard to go without salt on this one—it enhances all the flavors in this dish.
1 large globe eggplant, sliced into ¼ inch rounds
Sea salt, for sprinkling
1 egg*
½ cup panko bread crumbs
½ cup almond flour
¼ cup grated Parmesan cheese, pecorino cheese, or Vegan Parmesan
½ teaspoon sea salt
Freshly ground black pepper
Instructions
Preheat the air fryer to 370 degrees Fahrenheit.
Salt both sides of the eggplant slices and set in a big colander to drain for 30 minutes.
Whisk the egg in a small basin. Combine the panko, almond flour, pecorino, salt, and several grinds of pepper in a medium bowl or rimmed plate.
Dry the eggplant slices and then dip them in the egg, followed by the panko mixture. As you work, arrange the slices on a dish and sprinkle with olive oil. Cook in the air fryer in a single layer for 17 to 20 minutes, or until crisp and golden brown, turning halfway through cooking. If necessary, work in bunches.
Serve the eggplant with spaghetti, scoops of tomato sauce, dollops of cashew cream, basil, red pepper flakes, and drizzles of olive oil to complete the meal.
Notes
Cook them in a single layer and heat them all together before serving for 2-3 minutes to 370ºF.
Nutrition Information: Yield: 4 Serving Size: 1 Amount Per Serving: Calories: 110 Total Fat: 7g Saturated Fat: 1g Trans Fat: 0g Unsaturated Fat: 6g Cholesterol: 0mg Sodium: 1mg Carbohydrates: 12g Fiber: 4g Sugar: 5g Protein
Why You'll Love This Air Fryer Eggplant Recipe
Air Fryer eggplant recipe is savory, cheesy and crunchy with caramelized edges.
It is easy to make and healthy too.
It cooks in just 10 minutes using the air fryer.
This air fryer eggplant recipe is a delicious way to enjoy eggplant.
It's low in calories and easy to make.
You can serve it as an appetizer, side dish, or salad.
It's perfect for any Italian cuisine meal.
How long to cook eggplant in the air fryer
Get the air fryer preheating to 400°F before adding eggplant so it can cook quickly. Air fryer cooking time for eggplant is 20nminutes. Eggplant should be rested in the air fryer for 30 minutes after cooking to ensure it is cooked through. Air frying eggplant results in a crispy exterior and a soft interior. Cook eggplant in the air fryer until they are golden brown. Adjust the temperature for your air fryer since all air fryers cook slightly differently.
What to serve with Air Fried eggplant?
Air fried eggplant goes well with a variety of main courses. Eggplant is excellent as a side dish or snack. Crispy eggplant pairs well with Air Fryer pork tenderloin, Air Fryer halibut, Juicy air fryer Cornish hens, and Perfect air fryer ribeye steaks.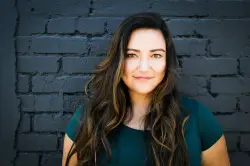 Latest posts by Angela Jones
(see all)